Federal ATF Agents used heavy military hardware to attack a fortified religious compound in Waco, TX. The ATF believed the Branch Dividians had "guns." Why did the US government react so forcefully?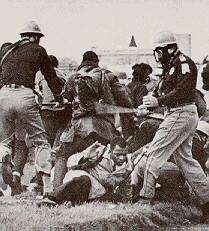 A peaceful march for black voting rights and other civil rights lead by the pacifist religious leader, Dr. Martin Luther King, ended in violence. State police assulted the demonstartors as they approached the city of Selma. Why did the federal government fear black voters?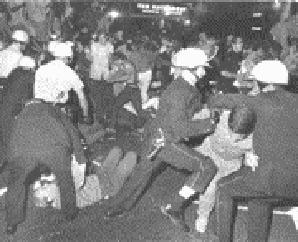 Chicago police assulted anti-war protestors at the 1968 Democratic National Convention. An over-reaction?




Ruby Ridge is one of the most notorious examples of the unwarranted use of federal force in modern times. Randy Weaver, an anti-government conservative, owned a large number of guns, many of which the government believed he obtained illegally. Weaver's family had been under federal surveillance for some time. On August 22, 1992 the FBI descended on Weaver's cabin with a number of snipers and armed agents to serve him with an arrest warrant. When agents encountered Weaver's 14 year-old son outside, they shot him and the the dog. Eventually, a federal sniper shot Weaver's wife through the door of their home, ending an eleven day siege. No photos available. (I wonder why) Movie about this incident shocked the nation and underscored how far the federal government will go to control citizens who disagree with them.